Blog
<![string:backto]>
User Group Recap & Upcoming Events
September 8, 2015
Regional User Group Recap
Glynn County, GA graciously hosted a meeting for the Southeast Regional group on Wednesday, August 26th, 2015, which was held at the beautiful facilities of St. Simons Island Casino on St. Simons Island, GA.

It was a fantastic group meeting! Big thank you to Harris ERP participation by Carol, Tina, Laura, Toni and Blake. Tina shared the "scoop" on our new GIS Integration! Also Joy from System Innovators, a Harris sister company, shared information on the new Sequel CAFR Unlimited. Glynn County was a wonderful host! In all, including those via Webinar...8 organizations attended: 4 onsite with 23 in attendance. Many  'stepped-out' of the picture, but many were brave and stayed in the photo.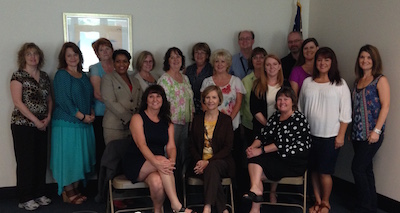 Save the Date! West Central Regional User Group Meeting: September 30, 2015
The next Harris ERP West Central Regional User Group meeting for our Innoprise software will be on Wednesday, September 30, 2015. This Regional Group meeting will be hosted by the City of Brighton, Colorado. Your group consists of the following states: North Dakota, South Dakota, Nebraska, Wyoming, Utah, Colorado and New Mexico.

This meeting will focus on our Innoprise suites, so please add your agenda topics of choice to your survey response. If there is someone in the group that would like to present a topic, please do include that information so you can be included on the agenda. This is your group and we want to provide assistance in helping make it a useful forum and networking opportunity for you. Harris ERP representative(s) will be onsite to discuss topics of interest with you.

Feel free to share this communication with other interested parties in your organization.
Don't forget to bring your open topics for the round table discussions!

Please respond to this survey by no later than 5:00 PM Eastern Daylight Time, Monday, September 21, 2015, for all attendees along with any dietary needs, to ensure adequate catering.

Please NOTE:  A registration fee of $20.00 will be accessed to cover food for the event, which will be invoiced after the event.
Checks payable to Harris ERP, a Division of Harris, 62133 Collections Center Drive, Chicago, IL  60693-0621.

Event agenda, location with directions, and hotel information will be provided in future emails.

For those of you that cannot attend in person, we will attempt to provide the meeting via webinar with exception to the time during lunch and round table discussions. The conference call information will be provided prior to meeting to any attending via webinar.

We are looking forward to a fantastic meeting; hope to see you there!
Categories