Blog
<![string:backto]>
Harris ERP Releases Innoprise Utility Billing/CIS v3.6.0
February 11, 2013
We're pleased to announce the release of Innoprise Utility Billing/CIS v3.6.0. Release notes and pre-recorded presentations regarding this release and prior releases are available on eSupport. To check the version you are on, please access the help page, as shown below.
Please submit a ticket with eSupport to schedule your upgrade.
Below is a brief summary of the major enhancement provided in each release:
V3.3.0:
• Improved security for meter read downloads
V3.4.0:
• Activity log single/multiple pane configuration
• Deposits billed in installments
V3.5.0:
• Addition of non-metered inventory
V3.6.0:
• Suppress low amount bills in bill print
• Implement Intelligent Barcodes in collections
• Add job scheduler functionality to printer dispatch
To Access:
Log on to the Harris eSupport site

From the top menu
• Select Downloads -> Documentation.
• Select Harris ERP from the "Division" dropdown list box.
• Select Innoprise from the "Family" dropdown list box.
• Select CIS from the "Category" dropdown list box.
• Download the release notes (.pdf) and the overview presentations (.wmv).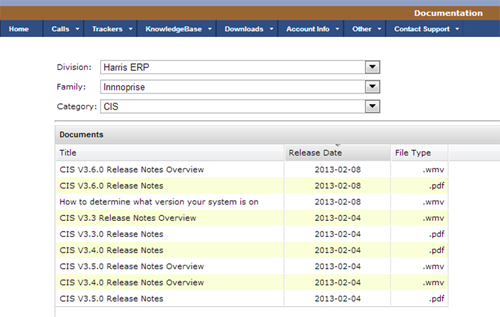 *Please note that these are large files and may take a few moments to download. Your patience is appreciated.
To contact the Harris ERP Support Team:
Log a call via eSupport
For phone support, please dial 1.866.450.6696.
Categories