Join the Harris ERP Community
We are a community of more than 50 staff members and nearly 200 customer sites across North America. Join us today!
"The sense of belonging we feel when we make the time to take an active role in our communities can give us a deeper sense of meaning and purpose."
Top 5 Reasons to Get Involved
5 – Monthly Communication Newsletters
| | |
| --- | --- |
| | Each month, we provide our Harris ERP customers with an e-newsletter which contains corporate communications about new staff, events, product updates, customer go lives, training, and much more! |
4– Executive Steering Committee
The purpose of the Executive Steering Committee is to identify priority issues and initiate best practices, and to make collaborative recommendations to the Harris ERP Leadership Team. The committee is made up of GEMS and Innoprise customers and staff members. During the semi-annual meetings, the committee discusses product direction and enhancements; and customers provide feedback on the service and support they receive.
3 – User Group Forums & Regional Group Meetings
Our user group forums provide a venue for you to communicate with other Harris ERP users, share ideas, tips & tricks, and discuss topics of interest regarding the software. No matter which product line you use, leverage the forums to develop a network of software peers, share best practices and learn from one another. We believe that fostering communication between our customers leads to everyone's greater success. Take advantage of the community you now have available to you, right from your fingertips! Log in to eSupport and join a forum today! To access a forum, from the top menu bar of eSupport, go to Other, User Groups – Harris ERP and select your community. Refer to the Downloads, Documentation section of eSupport for more detailed instructions.
Regional user group meetings provide customers an opportunity to network and share ideas in a close-knit, relaxed environment. Regional user group meetings are all about YOU, our customer: it's your chance to pick the topics you're most interested in. If you would like to host or join, contact William Barnett, Developer and Application Support Specialist or Donna Parker, Director of Client Services.
Upcoming regional user group meetings are always listed on our Events page. Not sure which region you belong to? Refer to our map below.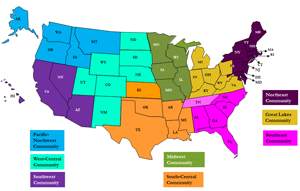 (Click to view larger).
2 – Free Online Training
When a face to face meeting isn't feasible, sign up to participate in one of our free training classes. We offer monthly Webinars on a variety of topics covering all of our product lines.
1 – Opportunities for Learning and Sharing
Through our regional user group meetings, annual Innoprise User Conference, and the always much anticipated Harris Customer Training Conference, we offer a variety of on-site learning opportunities for customers and staff to share best practices.